Well fall is FINALLY here! Despite the fact that we broke a record for the hottest September 23rd in history here in Indianapolis, I'm still loving the fact that it is fall. I spent some time this past weekend changing out some decorations inside my house. I love the colors of fall so many of the things in my home are beautiful fall colors already, but I have a few money saving tips to stretch a buck when decorating!
1. Pillow covers
I was fortunate to snag some awesome deals at Target this summer on some throw pillow slip covers. I picked them up in navy blue, summery blue stripes, red, and striped red/orange/beige. The striped fall color slip covers and red slip covers have covered the cream microfiber pillows that came with my couch. I threw in some
metallic
brown and beige pillows I have from Old Time Pottery ($5.99 each) to create a great fall mood in my living room.
2. Using candles
Clustering neutral and fall colored candles on a simple brown patterned tray created a nice addition to my bar top. I love clustering candles of different sizes together to add some visual interest to an otherwise bland area. Here are some examples.






3. Dollar store accessories
Towels, candles, picture frames, and other various accessories don't have to be expensive. Check out your local dollar store to find some of these things on the cheap. I have a magnetic hook on my front door where I hang a sign for every season. Here is my fall one.




Some hand towels I got at Dollar Tree.



Kitchen dish towels I got at Dollar Tree.


4. Re-purposing
One thing I love to do is save the corks from my wine bottles. I keep them in a glass holder to add a wood feeling to the room. I love the aged look and people always compliment me on how creative it is. You could do the same thing with wood shavings, coffee beans, flower petals, fallen leaves (real or fake) or branches/twigs.





I hope you enjoy the feeling(although not quite the temperature) of fall by partaking in your favorite fall activities. Mine definitely includes drinking my favorite pumpkin spice latte and stepping on crunchy leaves. Last year I even had the inspiration to take up some photography of some trees at the park down the street.
Link up with my friend Cait's fall day at theblessedlife! What a great and inspiring blog :) She is truly an inspiration for the creative frugal outlet in all of us! Sounds good to me!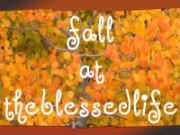 "/>